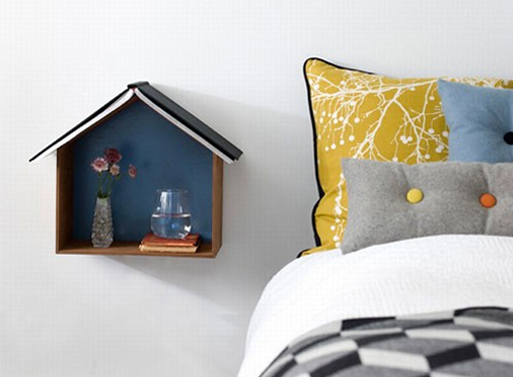 This unusual shelf from Fern Living, called Studio 1, beautifully doubles as a wall decoration. If displayed on a wall in several different sizes and colors, it creates a cute skyline (with the possibility of  storage and/or display). You can also use it as a bedside reading nest. It can house your alarm clock, a glass of water and some other small items. The 'roof' can serve as a bookmark. With its size and openness, Studio 1 also promotes minimal, clutter free approach to storage.
Source: Better Living Through Design
These cute animal-shaped chalkboard stickers from Coco Boheme are not only fun, but also eco-friendly and reusable. Made from potato starch, they can be applied and reapplied many times. And once they finally lose their appeal, you can simply add them to your compost or discard them, knowing that they will biodegrade nicely after six months. These stickers come in several shapes, some can even be suitable for the grownup quarters. So, no matter who is writing on them, your children or you (or both), –  it is a guiltless fun.